Sticky Mats Australia
Our sticky mats are disposable and adhesive dirt stoppers. They are suitable for maintaining sterile and dust free areas such as data centres, operating theatres, cleanrooms, electronic function or processing areas and entrances from workshop to office areas. The unique layered pad has non-transferring adhesive to remove dust and dirt from shoes and wheels. As soon as one layer is dirt loaded, tear off and expose a fresh layer. The layers are non-skid due to the last mat sticking to the floor.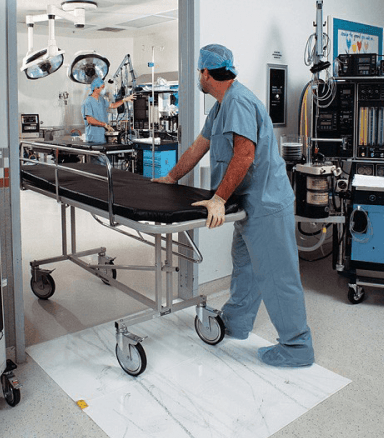 Our sticky mats come in blue colour only. Each sticky mat is 30-layers thick and come in the following sizes:
900mm x 600mm or 455mm x 915mm
Each box you order, contains 10 x sticky mats. Each sticky mat is 30-layers thick.
For our latest pricing, please fill out our order form. Pricing will automatically be calculated for you as you select various options.
We ship sticky mats same-day to Sydney, Melbourne, Perth, Adelaide, Brisbane, Canberra. For further information about our shipping conditions (including international shipping) please read our FAQ.
If you have a floor surface that a sticky mat won't stick to, like concrete or carpet, please remember to order a FRAME as well. This will allow you to stick the mat to the frame, and then place that on the floor area. This is handy too, if you need to be able to move the sticky mat often, instead of leaving it permanently in place.
If you need more information before ordering please phone 1300 76 55 66 during business hours, or email us any time.